The excitement is building! Do you know the nickname of the RWC trophy? In how many RWC Finals were there no tries scored?
Quiz nights are a great way of entertaining, team building and raising funds. We are planning quiz nights throughout the country, leading up to, and during the period of the RWC tournament.
With or without guest speakers

Best quality equipment and staff backup

Also for other occasions...not just rugby

Book early to avoid disappointment
AUCTION ITEMS/AUCTIONEERS WILL ALSO BE INCLUDED FOR ADDITIONAL FUND RAISING
HOW DOES IT WORK?
We offer you the opportunity to have a Quiz event, either by itself or part of an event. It could be used for fun, team building and/or fund raising. It can be on any subject, ie. History, Sport, Entertainment (Quiz on the Oscars), etc. We will run the quiz during your function, organized by yourself, either for a school, corporate or fund raising event, etc.
We will do the Sports Quiz during the function organized by a School or Corporate. The Quiz is an electronic voting system, with questions relating to video / photo clips. The results are available immediately after voting.
Example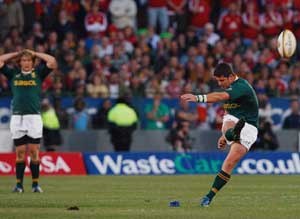 WHAT WAS THE FINAL SCORE IN THE 2ND TEST AGAINST THE CASTLE BRITISH LIONS SERIES IN 2009?
27 - 15
28 - 25
33 - 27
15 - 12
Our fee is R6000 up to 200 people, and thereafter R1200 per additional 100 people. Costs can be reduced on reaching a deal on the auction. The auction itself can be used to raise additional funds for the event.
At no extra cost or effort you can increase the profit you make at your fundraisers!
All you need to do is give us a call and we will assist you by getting our auctioneer to sell some of our finest memorabilia to the highest bidder. Each item has a reserve price, the difference between the reserve price and the selling price is your profit. For example, an item's reserve price is R1 000 and is sold for R2 000 - the difference between the two prices is your profit. Should an item only fetch the reserve price we will still give you 10% of the agreed reserve i.e. if the item above is sold for R1 000 you still earn R100 for your fundraiser or charity.
We have the best auction items (sports, music, politics, etc.) at the best prices, supplied on a sale or return basis. Most of our products can be found whilst traveling through our website.
Please don't hesitate to contact us for more information.